Treasure Island Tampa Bay
Vestkysten når den er bedst.
Treasure Island, Florida is located on Florida's beautiful Gulf Coast and is blessed with miles of gorgeous white sand beaches that boast that "Old Florida" feel yet Treasure Island is part of the Tampa Bay region, one of the nation's fastest growing metro areas.Treasure Island offers you and your family a quiet "laid back" atmosphere while being just a short drive from Florida's major theme parks.
Miles of clean, wide white sand beaches make Treasure Island the perfect Florida family destination. The warm gentle waters of the Gulf of Mexico and the very best sunsets in the world await you when you visit toTreasure Island.
---
Treasure Island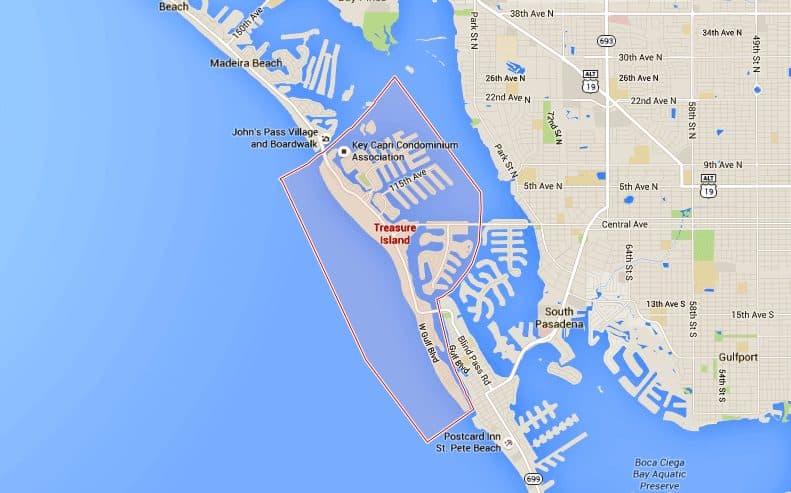 ---
$128,000Price Increase
Active
11655 3RD ST E Unit#11 TREASURE ISLAND, Florida 33706-4542
Beds:0Baths:1/0
Year Built:1971Lot Size Acres:Heated Sq Ft:390Garage/Carport:NonePool:Community
---
$134,900
Active
11730 GULF BLVD Unit#48 TREASURE ISLAND, Florida 33706-5118
Beds:0Baths:1/0
Year Built:1950Lot Size Acres:1.00Heated Sq Ft:265Garage/Carport:NonePool:Community
---
$134,900
Active
11730 GULF BLVD Unit#10 TREASURE ISLAND, Florida 33706-5118
Beds:0Baths:1/0
Year Built:1950Lot Size Acres:1.00Heated Sq Ft:265Garage/Carport:NonePool:Community
---
$153,000
Active
11655 3RD ST E Unit#4 TREASURE ISLAND, Florida 33706-4541
Beds:1Baths:1/0
Year Built:1971Lot Size Acres:Heated Sq Ft:655Garage/Carport:NonePool:Community
---
$154,900New Listing
Active
450 TREASURE ISLAND CSWY Unit#303 TREASURE ISLAND, Florida 33706
Beds:1Baths:1/1
Year Built:1974Lot Size Acres:Heated Sq Ft:885Garage/Carport:NonePool:None
---
$162,000Price Decrease
Active
500 TREASURE ISLAND CSWY Unit#305 TREASURE ISLAND, Florida 33706-1140
Beds:1Baths:1/1
Year Built:1974Lot Size Acres:0.00Heated Sq Ft:885Garage/Carport:NonePool:None
---
$169,900
Active
500 TREASURE ISLAND CSWY Unit#106 TREASURE ISLAND, Florida 33706
Beds:1Baths:1/1
Year Built:1974Lot Size Acres:Heated Sq Ft:885Garage/Carport:NonePool:None
---
$171,500
Active
9755 HARRELL AVE Unit#106 TREASURE ISLAND, Florida 33706-3227
Beds:1Baths:1/0
Year Built:1979Lot Size Acres:Heated Sq Ft:615Garage/Carport:NonePool:Community, Private
---
$175,900
Active
505 PLAZA SEVILLE CT Unit#9 TREASURE ISLAND, Florida 33706-1230
Beds:1Baths:1/0
Year Built:1969Lot Size Acres:Heated Sq Ft:785Garage/Carport:NonePool:Community
---
$179,900
Active
11701 1ST ST E Unit#7 TREASURE ISLAND, Florida 33706-5147
Beds:1Baths:1/0
Year Built:1972Lot Size Acres:Heated Sq Ft:420Garage/Carport:NonePool:None
---
$179,900Price Decrease
Active
11701 1ST ST E Unit#1 TREASURE ISLAND, Florida 33706-5147
Beds:2Baths:2/0
Year Built:1972Lot Size Acres:Heated Sq Ft:795Garage/Carport:4 Car Carport, Under Building ParkingPool:None
---
$184,900
Active
450 TREASURE ISLAND CSWY Unit#202 TREASURE ISLAND, Florida 33706-1137
Beds:1Baths:1/1
Year Built:1974Lot Size Acres:Heated Sq Ft:885Garage/Carport:NonePool:None
---
$185,000
Active
9895 1ST ST E Unit#6 TREASURE ISLAND, Florida 33706-3224
Beds:2Baths:2/0
Year Built:1960Lot Size Acres:Heated Sq Ft:880Garage/Carport:NonePool:None
---
$189,000
Active
282 TREASURE ISLAND CSWY Unit#115 TREASURE ISLAND, Florida 33706
Beds:1Baths:1/0
Year Built:1961Lot Size Acres:Heated Sq Ft:513Garage/Carport:NonePool:Community
---
$189,400
Active
9895 1ST ST E Unit#7 TREASURE ISLAND, Florida 33706-3225
Beds:2Baths:2/0
Year Built:1960Lot Size Acres:0.43Heated Sq Ft:880Garage/Carport:NonePool:None
Mere info klik her
---
$189,500
Active
16 PARADISE LN Unit#101 TREASURE ISLAND, Florida 33706-1129
Beds:2Baths:1/0
Year Built:1972Lot Size Acres:0.00Heated Sq Ft:865Garage/Carport:1 Car CarportPool:Community
---
$189,900Price Decrease
Active
6161 GULF WINDS DR Unit#139 ST PETE BEACH, Florida 33706-3740
Beds:2Baths:2/0
Year Built:1966Lot Size Acres:8.44Heated Sq Ft:1,335Garage/Carport:NonePool:Community
---
$189,900Price Decrease
Active
10355 PARADISE BLVD Unit#406 TREASURE ISLAND, Florida 33706-3157
Beds:1Baths:1/0
Year Built:1963Lot Size Acres:0.00Heated Sq Ft:870Garage/Carport:Under Building ParkingPool:Community
---
$194,900
Active
10379 PARADISE BLVD Unit#40 TREASURE ISLAND, Florida 33706-3144
Beds:2Baths:1/1
Year Built:1968Lot Size Acres:Heated Sq Ft:835Garage/Carport:NonePool:None
---
$195,000
Active
282 TREASURE ISLAND CSWY Unit#123 TREASURE ISLAND, Florida 33706
Beds:1Baths:1/0
Year Built:1961Lot Size Acres:0.00Heated Sq Ft:507Garage/Carport:NonePool:Community
---
$198,000
Active
280 126TH AVE Unit#210 TREASURE ISLAND, Florida 33706-4443
Beds:2Baths:2/0
Year Built:1968Lot Size Acres:0.00Heated Sq Ft:1,005Garage/Carport:NonePool:None
---
$199,900Price Decrease
Active
509 PLAZA SEVILLE CT Unit#20 TREASURE ISLAND, Florida 33706-1232
Beds:2Baths:1/0
Year Built:1969Lot Size Acres:0.00Heated Sq Ft:1,010Garage/Carport:NonePool:Community
---
$219,900Price Decrease
Active
12100 CAPRI CIR S Unit#103 TREASURE ISLAND, Florida 33706-5063
Beds:1Baths:1/0
Year Built:1969Lot Size Acres:0.45Heated Sq Ft:760Garage/Carport:1 Car CarportPool:Community
---
$219,900Price Decrease
Active
225 104TH AVE Unit#108 TREASURE ISLAND, Florida 33706-4838
Beds:1Baths:1/0
Year Built:1967Lot Size Acres:Heated Sq Ft:550Garage/Carport:NonePool:Community
---
$220,000New Listing
Active
10355 PARADISE BLVD Unit#402 TREASURE ISLAND, Florida 33706-3157
Beds:2Baths:2/0
Year Built:1963Lot Size Acres:Heated Sq Ft:1,050Garage/Carport:Under Building ParkingPool:Community
---
$220,000
Active
230 NAUTILUS WAY Unit#230 TREASURE ISLAND, Florida 33706-4559
Beds:2Baths:1/0
Year Built:1985Lot Size Acres:0.99Heated Sq Ft:800Garage/Carport:1 Car GaragePool:Community
---
$224,900
Active
519 PLAZA SEVILLE CT Unit#37 TREASURE ISLAND, Florida 33706-1237
Beds:2Baths:1/0
Year Built:1969Lot Size Acres:Heated Sq Ft:1,010Garage/Carport:NonePool:Community
Mere info klik her
---
$224,900
Active
285 107TH AVE Unit#206 TREASURE ISLAND, Florida 33706-4724
Beds:2Baths:2/0
Year Built:1974Lot Size Acres:Heated Sq Ft:1,055Garage/Carport:Under Building ParkingPool:Community
---
$234,900
Active
11730 GULF BLVD Unit#8 TREASURE ISLAND, Florida 33706-5118
Beds:2Baths:1/0
Year Built:1950Lot Size Acres:1.00Heated Sq Ft:535Garage/Carport:NonePool:Community
---
$236,500
Active
556 PLAZA SEVILLE CT Unit#105 TREASURE ISLAND, Florida 33706-1227
Beds:2Baths:2/0
Year Built:1969Lot Size Acres:Heated Sq Ft:1,145Garage/Carport:NonePool:Community
---
$239,000New Listing
Active
10265 GULF BLVD Unit#B-311 TREASURE ISLAND, Florida 33706-4873
Beds:1Baths:1/0
Year Built:1970Lot Size Acres:Heated Sq Ft:486Garage/Carport:NonePool:Community
---
$247,000
Active
285 107TH AVE Unit#407 TREASURE ISLAND, Florida 33706-4725
Beds:2Baths:2/0
Year Built:1974Lot Size Acres:Heated Sq Ft:1,055Garage/Carport:NonePool:Community
Mere info klik her
---
$250,000
Active
530 PLAZA SEVILLE CT Unit#53 TREASURE ISLAND, Florida 33706-1214
Beds:1Baths:1/0
Year Built:1969Lot Size Acres:Heated Sq Ft:785Garage/Carport:NonePool:Community
---
$255,000Back On Market
Active
1 KEY CAPRI Unit#202E TREASURE ISLAND, Florida 33706-4948
Beds:2Baths:2/0
Year Built:1973Lot Size Acres:0.00Heated Sq Ft:1,175Garage/Carport:Under Building ParkingPool:Community
---
$264,500
Active
235 NAUTILUS WAY TREASURE ISLAND, Florida 33706-4502
Beds:2Baths:2/0
Year Built:1986Lot Size Acres:0.00Heated Sq Ft:920Garage/Carport:3 Car GaragePool:Community
---
$275,000
Active
534 PLAZA SEVILLE CT Unit#61 TREASURE ISLAND, Florida 33706-1216
Beds:2Baths:1/0
Year Built:1969Lot Size Acres:Heated Sq Ft:1,010Garage/Carport:NonePool:Community
Mere info klik her
---
$285,000
Active
1 KEY CAPRI Unit#105W TREASURE ISLAND, Florida 33706-4958
Beds:2Baths:2/0
Year Built:1976Lot Size Acres:Heated Sq Ft:1,175Garage/Carport:NonePool:Community
---
$289,000
Active
1 KEY CAPRI Unit#205W TREASURE ISLAND, Florida 33706-4923
Beds:2Baths:2/0
Year Built:1976Lot Size Acres:Heated Sq Ft:1,175Garage/Carport:Under Building ParkingPool:Community
---
$299,000
Active
253 NAUTILUS WAY TREASURE ISLAND, Florida 33706-4562
Beds:2Baths:2/0
Year Built:1986Lot Size Acres:0.00Heated Sq Ft:920Garage/Carport:1 Car GaragePool:Community
---
$304,900
Active
11730 GULF BLVD Unit#27 TREASURE ISLAND, Florida 33706-5118
Beds:1Baths:1/0
Year Built:1950Lot Size Acres:1.00Heated Sq Ft:535Garage/Carport:NonePool:Community
Mere info klik her
---
$314,900
Active
143 94TH AVE Unit#1 TREASURE ISLAND, Florida 33706-3353
Beds:1Baths:1/1
Year Built:1974Lot Size Acres:0.00Heated Sq Ft:1,060Garage/Carport:Under Building ParkingPool:None
---
$319,000New Listing
Active
11045 3RD ST E Unit#2 TREASURE ISLAND, Florida 33706-4665
Beds:2Baths:2/0
Year Built:1964Lot Size Acres:0.00Heated Sq Ft:980Garage/Carport:NonePool:None
---
$325,000
Active
285 107TH AVE Unit#705 TREASURE ISLAND, Florida 33706-4728
Beds:2Baths:2/0
Year Built:1974Lot Size Acres:Heated Sq Ft:1,055Garage/Carport:Under Building ParkingPool:Community
Mere info klik her
---
$325,000
Active
225 116TH AVE Unit#225-A TREASURE ISLAND, Florida 33706-4514
Beds:3Baths:2/0
Year Built:1973Lot Size Acres:0.00Heated Sq Ft:1,535Garage/Carport:NonePool:Community
---
$325,000
Active
143 94TH AVE Unit#7 TREASURE ISLAND, Florida 33706-3353
Beds:2Baths:2/0
Year Built:1974Lot Size Acres:Heated Sq Ft:1,060Garage/Carport:1 Car Carport, Under Building ParkingPool:None
---
$325,000
Active
143 94TH AVE Unit#3 TREASURE ISLAND, Florida 33706-3353
Beds:2Baths:1/1
Year Built:1974Lot Size Acres:Heated Sq Ft:1,060Garage/Carport:Under Building ParkingPool:None
Mere info klik her
---
$335,000
Active
12080 CAPRI CIR S Unit#201 TREASURE ISLAND, Florida 33706-4953
Beds:2Baths:2/0
Year Built:1979Lot Size Acres:Heated Sq Ft:1,228Garage/Carport:NonePool:None
---
$349,000
Active
553 SANDY HOOK RD Unit#553 TREASURE ISLAND, Florida 33706-1212
Beds:3Baths:2/1
Year Built:1981Lot Size Acres:Heated Sq Ft:2,025Garage/Carport:2 Car GaragePool:Community
---
$349,900
Active
10241 TARPON DR TREASURE ISLAND, Florida 33706-3139
Beds:3Baths:2/0
Year Built:1960Lot Size Acres:0.20Heated Sq Ft:1,292Garage/Carport:NonePool:None
---
$375,000
Active
245 104TH AVE Unit#4 TREASURE ISLAND, Florida 33706-4840
Beds:2Baths:2/0
Year Built:1968Lot Size Acres:Heated Sq Ft:1,070Garage/Carport:NonePool:Community
---
$375,000
Active
440 SANDY HOOK RD TREASURE ISLAND, Florida 33706-1211
Beds:3Baths:2/1
Year Built:1992Lot Size Acres:0.07Heated Sq Ft:2,130Garage/Carport:2 Car GaragePool:Community
---
$379,000New Listing
Active
213 126TH AVE TREASURE ISLAND, Florida 33706-4420
Beds:3Baths:2/1
Year Built:2000Lot Size Acres:0.05Heated Sq Ft:1,946Garage/Carport:1 Car GaragePool:None
---
$380,000
Active
475 HAVEN POINT DR Unit#475 TREASURE ISLAND, Florida 33706-1206
Beds:2Baths:3/1
Year Built:1979Lot Size Acres:Heated Sq Ft:1,750Garage/Carport:1 Car GaragePool:Community
---
$389,000New Listing
Active
499 HAVEN POINT DR TREASURE ISLAND, Florida 33706-1206
Beds:2Baths:2/1
Year Built:1979Lot Size Acres:0.00Heated Sq Ft:1,750Garage/Carport:2 Car GaragePool:Community
Mere info klik her
---
$389,000
Active
122 87TH AVE TREASURE ISLAND, Florida 33706-3306
Beds:2Baths:2/0
Year Built:1956Lot Size Acres:0.06Heated Sq Ft:900Garage/Carport:NonePool:None
---
$389,900
Active
500 TREASURE ISLAND CSWY Unit#108 TREASURE ISLAND, Florida 33706-1140
Beds:3Baths:2/1
Year Built:1974Lot Size Acres:Heated Sq Ft:1,780Garage/Carport:NonePool:None
---
$395,000
Active
450 TREASURE ISLAND CSWY Unit#702 TREASURE ISLAND, Florida 33706-1138
Beds:2Baths:2/1
Year Built:1974Lot Size Acres:1.93Heated Sq Ft:1,780Garage/Carport:NonePool:None
---
$399,000
Active
490 SANDY HOOK RD TREASURE ISLAND, Florida 33706-1211
Beds:3Baths:2/1
Year Built:1992Lot Size Acres:0.00Heated Sq Ft:2,130Garage/Carport:2 Car GaragePool:Community, Private
---
$399,500
Active
5445 GULF BLVD Unit#204 ST PETE BEACH, Florida 33706-2360
Beds:2Baths:2/0
Year Built:1995Lot Size Acres:Heated Sq Ft:800Garage/Carport:NonePool:Community
Mere info klik her
---
$415,000
Active
220 126TH AVE Unit#1 TREASURE ISLAND, Florida 33706-4453
Beds:2Baths:2/0
Year Built:1961Lot Size Acres:Heated Sq Ft:1,200Garage/Carport:1 Car GaragePool:None
---
$417,000
Active
10265 GULF BLVD Unit#A-106 TREASURE ISLAND, Florida 33706-4873
Beds:2Baths:2/0
Year Built:1970Lot Size Acres:0.91Heated Sq Ft:1,046Garage/Carport:NonePool:Community
---
$419,000
Active
121 E BAY DR TREASURE ISLAND, Florida 33706-3419
Beds:2Baths:1/0
Year Built:1957Lot Size Acres:0.69Heated Sq Ft:911Garage/Carport:1 Car CarportPool:None
Mere info klik her
---
$420,000
Active
220 126TH AVE Unit#3 TREASURE ISLAND, Florida 33706-4453
Beds:2Baths:2/0
Year Built:1961Lot Size Acres:Heated Sq Ft:1,195Garage/Carport:1 Car GaragePool:None
---
$425,000
Active
8470 W GULF BLVD Unit#512 TREASURE ISLAND, Florida 33706-3434
Beds:2Baths:2/0
Year Built:1974Lot Size Acres:Heated Sq Ft:910Garage/Carport:Under Building ParkingPool:Community
---
$429,000
Active
12000 GULF BLVD Unit#207-S TREASURE ISLAND, Florida 33706-5124
Beds:2Baths:1/1
Year Built:2006Lot Size Acres:0.00Heated Sq Ft:870Garage/Carport:NonePool:Community
---
$429,900
Active
5500 GULF BLVD Unit#3250 ST PETE BEACH, Florida 33706-2323
Beds:2Baths:2/0
Year Built:1990Lot Size Acres:0.00Heated Sq Ft:835Garage/Carport:NonePool:Community
---
$439,000
Active
12242 2ND ST E TREASURE ISLAND, Florida 33706-4954
Beds:3Baths:2/1
Year Built:1982Lot Size Acres:0.00Heated Sq Ft:1,850Garage/Carport:2 Car GaragePool:Community
Mere info klik her
---
$439,250
Active
10091 GULF BLVD Unit#303 TREASURE ISLAND, Florida 33706-4809
Beds:2Baths:2/0
Year Built:2018Lot Size Acres:0.44Heated Sq Ft:836Garage/Carport:NonePool:Community
---
$439,900Price Decrease
Active
10055 S YACHT CLUB DR TREASURE ISLAND, Florida 33706-3101
Beds:3Baths:2/0
Year Built:1971Lot Size Acres:0.24Heated Sq Ft:2,154Garage/Carport:2 Car GaragePool:Private
---
$440,000
Active
10100 PARADISE BLVD TREASURE ISLAND, Florida 33706-3117
Beds:3Baths:2/0
Year Built:1969Lot Size Acres:0.31Heated Sq Ft:2,044Garage/Carport:2 Car GaragePool:None
Mere info klik her
---
$449,999
Active
12000 GULF BLVD Unit#505-N TREASURE ISLAND, Florida 33706-5124
Beds:2Baths:2/0
Year Built:2006Lot Size Acres:0.00Heated Sq Ft:870Garage/Carport:NonePool:Community
---
$450,000Back On Market
Active
585 CAPRI BLVD TREASURE ISLAND, Florida 33706-2943
Beds:3Baths:2/0
Year Built:1983Lot Size Acres:0.22Heated Sq Ft:2,183Garage/Carport:2 Car GaragePool:None
---
$450,000Price Decrease
Active
285 107TH AVE Unit#709 TREASURE ISLAND, Florida 33706-4728
Beds:3Baths:2/0
Year Built:1974Lot Size Acres:0.88Heated Sq Ft:1,510Garage/Carport:1 Car CarportPool:Community
Mere info klik her
---
$450,000
Active
12000 GULF BLVD Unit#402-S TREASURE ISLAND, Florida 33706-5124
Beds:2Baths:2/0
Year Built:2006Lot Size Acres:0.00Heated Sq Ft:870Garage/Carport:NonePool:Community
---
$454,750
Active
10091 GULF BLVD Unit#301 TREASURE ISLAND, Florida 33706-4806
Beds:2Baths:2/0
Year Built:2018Lot Size Acres:0.17Heated Sq Ft:940Garage/Carport:Under Building ParkingPool:Community
Mere info klik her
---
$458,000
Active
10091 GULF BLVD Unit#402 TREASURE ISLAND, Florida 33706-4806
Beds:2Baths:2/0
Year Built:2018Lot Size Acres:0.17Heated Sq Ft:836Garage/Carport:NonePool:Community
---
$465,000New Listing
Active
275 126TH AVE TREASURE ISLAND, Florida 33706
Beds:3Baths:2/1
Year Built:1991Lot Size Acres:0.13Heated Sq Ft:1,707Garage/Carport:2 Car GaragePool:None
---
$475,000Price Decrease
Active
7467 BAYSHORE DR Unit#402 TREASURE ISLAND, Florida 33706-3509
Beds:2Baths:2/0
Year Built:1986Lot Size Acres:14.00Heated Sq Ft:1,140Garage/Carport:Under Building ParkingPool:Community
Mere info klik her
---
$480,000
Active
131 95TH AVE TREASURE ISLAND, Florida 33706-3325
Beds:3Baths:2/0
Year Built:1928Lot Size Acres:0.13Heated Sq Ft:1,410Garage/Carport:1 Car GaragePool:None
Mere info klik her
---
$480,500
Active
10091 GULF BLVD Unit#405 TREASURE ISLAND, Florida 33706-4806
Beds:2Baths:2/0
Year Built:2018Lot Size Acres:0.17Heated Sq Ft:940Garage/Carport:NonePool:Community
---
$495,900
Active
11000 GULF BLVD Unit#1402 TREASURE ISLAND, Florida 33706-4740
Beds:2Baths:2/0
Year Built:1974Lot Size Acres:0.00Heated Sq Ft:1,120Garage/Carport:Under Building ParkingPool:Community
Mere info klik her
---
$499,000New Listing
Active
10231 TARPON DR TREASURE ISLAND, Florida 33706-3138
Beds:3Baths:4/0
Year Built:1965Lot Size Acres:0.19Heated Sq Ft:1,951Garage/Carport:1 Car GaragePool:None
---
$499,000
Active
8470 W GULF BLVD Unit#605 TREASURE ISLAND, Florida 33706-3461
Beds:2Baths:2/0
Year Built:1974Lot Size Acres:Heated Sq Ft:1,180Garage/Carport:Under Building ParkingPool:Community
Mere info klik her
---
$499,000
Active
12105 5TH ST E TREASURE ISLAND, Florida 33706-2905
Beds:3Baths:2/1
Year Built:1972Lot Size Acres:0.22Heated Sq Ft:1,990Garage/Carport:2 Car GaragePool:None
---
$500,000
Active
121 99TH AVE TREASURE ISLAND, Florida 33706-3207
Beds:3Baths:3/0
Year Built:2012Lot Size Acres:0.05Heated Sq Ft:1,618Garage/Carport:1 Car Carport, 1 Car GaragePool:Community
Mere info klik her
---
$508,000
Active
9933 GULF BLVD TREASURE ISLAND, Florida 33706-3215
Beds:3Baths:3/0
Year Built:2001Lot Size Acres:0.09Heated Sq Ft:2,038Garage/Carport:3 Car GaragePool:None
Mere info klik her
---
$530,000Price Decrease
Active
135 92ND AVE Unit#1 TREASURE ISLAND, Florida 33706-3364
Beds:2Baths:2/1
Year Built:1982Lot Size Acres:0.00Heated Sq Ft:1,520Garage/Carport:1 Car GaragePool:None
Mere info klik her
---
$540,000
Active
7435 BAYSHORE DR Unit#304 TREASURE ISLAND, Florida 33706-3558
Beds:2Baths:2/0
Year Built:1987Lot Size Acres:0.00Heated Sq Ft:1,140Garage/Carport:Under Building ParkingPool:Community
Mere info klik her
---
$550,000New Listing
Active
11360 GULF BLVD Unit#601 TREASURE ISLAND, Florida 33706
Beds:2Baths:2/0
Year Built:2001Lot Size Acres:0.80Heated Sq Ft:925Garage/Carport:Under Building ParkingPool:Community
---
$569,000
Active
10301 GULF BLVD Unit#202 TREASURE ISLAND, Florida 33706-4850
Beds:2Baths:2/0
Year Built:1982Lot Size Acres:Heated Sq Ft:1,320Garage/Carport:Under Building ParkingPool:Community
Mere info klik her
---
$575,000
Active
112 94TH AVE TREASURE ISLAND, Florida 33706-3324
Beds:2Baths:2/0
Year Built:1940Lot Size Acres:0.06Heated Sq Ft:1,508Garage/Carport:4 Car Carport, Under Building ParkingPool:None
---
$575,000
Active
300 CAPRI BLVD Unit#10 TREASURE ISLAND, Florida 33706-4445
Beds:3Baths:3/0
Year Built:2008Lot Size Acres:0.72Heated Sq Ft:2,805Garage/Carport:3 Car GaragePool:Community
Mere info klik her
---
$579,900New Listing
Active
12205 4TH ST E TREASURE ISLAND, Florida 33706
Beds:3Baths:2/0
Year Built:1984Lot Size Acres:0.19Heated Sq Ft:1,752Garage/Carport:2 Car GaragePool:Private
Mere info klik her
---
$599,000
Active
7532 BAYSHORE DR Unit#202 TREASURE ISLAND, Florida 33706-3561
Beds:2Baths:2/0
Year Built:1984Lot Size Acres:0.00Heated Sq Ft:1,140Garage/Carport:Under Building ParkingPool:Community
Mere info klik her
---
$599,000
Active
7702 BAYSHORE DR TREASURE ISLAND, Florida 33706-3522
Beds:3Baths:3/0
Year Built:2001Lot Size Acres:0.07Heated Sq Ft:1,905Garage/Carport:2 Car GaragePool:None
---
$599,900
Active
7467 BAYSHORE DR Unit#201 TREASURE ISLAND, Florida 33706-3594
Beds:2Baths:2/0
Year Built:1986Lot Size Acres:14.00Heated Sq Ft:1,255Garage/Carport:Under Building ParkingPool:Community
Mere info klik her
---
$600,000
Active
11180 9TH ST E TREASURE ISLAND, Florida 33706-1114
Beds:3Baths:2/0
Year Built:1968Lot Size Acres:0.19Heated Sq Ft:1,620Garage/Carport:NonePool:None
---
$600,000
Active
9300 HARRELL AVE TREASURE ISLAND, Florida 33706-3343
Beds:3Baths:2/0
Year Built:2006Lot Size Acres:0.06Heated Sq Ft:1,754Garage/Carport:3 Car GaragePool:None
---
$620,000
Active
300 CAPRI BLVD Unit#3 TREASURE ISLAND, Florida 33706-4445
Beds:3Baths:3/0
Year Built:2008Lot Size Acres:0.00Heated Sq Ft:2,738Garage/Carport:3 Car GaragePool:Community
Mere info klik her
---
$620,000
Active
10116 GULF BLVD Unit#202 TREASURE ISLAND, Florida 33706-4809
Beds:2Baths:2/0
Year Built:2017Lot Size Acres:0.44Heated Sq Ft:836Garage/Carport:NonePool:Community
---
$624,900
Active
11650 5TH ST E TREASURE ISLAND, Florida 33706-2902
Beds:4Baths:2/0
Year Built:1966Lot Size Acres:0.19Heated Sq Ft:1,928Garage/Carport:2 Car GaragePool:None
---
$630,000
Active
10116 GULF BLVD Unit#304 TREASURE ISLAND, Florida 33706-4809
Beds:2Baths:2/0
Year Built:2018Lot Size Acres:0.44Heated Sq Ft:940Garage/Carport:NonePool:Community
---
$639,000
Active
11460 8TH ST E TREASURE ISLAND, Florida 33706-1115
Beds:4Baths:4/0
Year Built:1967Lot Size Acres:0.18Heated Sq Ft:1,801Garage/Carport:2 Car GaragePool:None
---
$640,000
Active
10116 GULF BLVD Unit#403 TREASURE ISLAND, Florida 33706
Beds:2Baths:2/0
Year Built:2017Lot Size Acres:0.44Heated Sq Ft:836Garage/Carport:NonePool:Community
---
$650,000
Active
10140 YACHT CLUB DR TREASURE ISLAND, Florida 33706-3127
Beds:4Baths:3/0
Year Built:1956Lot Size Acres:0.25Heated Sq Ft:2,333Garage/Carport:2 Car GaragePool:Private
---
$650,000
Active
9401 HARRELL AVE Unit#2 TREASURE ISLAND, Florida 33706-3378
Beds:3Baths:3/0
Year Built:2005Lot Size Acres:0.29Heated Sq Ft:2,120Garage/Carport:3 Car GaragePool:None
Mere info klik her
---
$659,000
Active
12000 6TH ST E TREASURE ISLAND, Florida 33706
Beds:3Baths:2/0
Year Built:1964Lot Size Acres:0.10Heated Sq Ft:1,522Garage/Carport:1 Car GaragePool:Private
---
$675,000
Active
50 78TH AVE TREASURE ISLAND, Florida 33706-3504
Beds:3Baths:3/0
Year Built:1987Lot Size Acres:0.05Heated Sq Ft:2,236Garage/Carport:1 Car Garage, 2 Car CarportPool:None
---
$699,900
Active
8085 W GULF BLVD Unit#101 TREASURE ISLAND, Florida 33706-5244
Beds:3Baths:3/0
Year Built:2007Lot Size Acres:Heated Sq Ft:2,375Garage/Carport:2 Car GaragePool:None
Kan være solgt ring +45 20 57 6880
---
$707,000
Active
10116 GULF BLVD Unit#305 TREASURE ISLAND, Florida 33706-4809
Beds:2Baths:2/0
Year Built:2018Lot Size Acres:0.44Heated Sq Ft:940Garage/Carport:NonePool:Community
---
$709,900
Active
9927 1ST ST E TREASURE ISLAND, Florida 33706-3203
Beds:3Baths:3/0
Year Built:2001Lot Size Acres:0.06Heated Sq Ft:2,038Garage/Carport:1 Car Garage, 2 Car GaragePool:None
Kan være solgt ring +45 20 57 68 80
---
$718,919
Active
7650 BAYSHORE DR Unit#805 TREASURE ISLAND, Florida 33706-3552
Beds:2Baths:2/0
Year Built:1980Lot Size Acres:3.00Heated Sq Ft:1,430Garage/Carport:1 Car GaragePool:Community
Kan være solgt ring + 45 20 57 68 80
---
$725,000
Active
13 ISLAND DR TREASURE ISLAND, Florida 33706-1202
Beds:3Baths:2/1
Year Built:1967Lot Size Acres:0.23Heated Sq Ft:2,478Garage/Carport:2 Car GaragePool:Private
---
$739,000
Active
11605 GULF BLVD Unit#PH 604 TREASURE ISLAND, Florida 33706-4509
Beds:3Baths:3/0
Year Built:2008Lot Size Acres:0.00Heated Sq Ft:1,828Garage/Carport:Under Building ParkingPool:Community
---
$739,000
Active
11100 6TH ST E TREASURE ISLAND, Florida 33706-3022
Beds:4Baths:2/0
Year Built:1957Lot Size Acres:0.19Heated Sq Ft:2,307Garage/Carport:1 Car GaragePool:Private
---
$749,000New Listing
Active
11000 4TH ST E TREASURE ISLAND, Florida 33706-3002
Beds:2Baths:2/0
Year Built:1989Lot Size Acres:0.18Heated Sq Ft:1,926Garage/Carport:2 Car GaragePool:None
---
$749,000
Active
32 DOLPHIN DR TREASURE ISLAND, Florida 33706-3113
Beds:2Baths:2/0
Year Built:1954Lot Size Acres:0.27Heated Sq Ft:2,004Garage/Carport:1 Car GaragePool:None
---
$749,900
Active
11605 GULF BLVD Unit#601 TREASURE ISLAND, Florida 33706-4509
Beds:3Baths:3/0
Year Built:2008Lot Size Acres:1.16Heated Sq Ft:1,853Garage/Carport:Under Building ParkingPool:Community
---
$769,900Price Decrease
Active
11200 8TH ST E TREASURE ISLAND, Florida 33706-1106
Beds:3Baths:3/0
Year Built:1957Lot Size Acres:0.19Heated Sq Ft:2,038Garage/Carport:2 Car GaragePool:Private
Kan være solgt ring +45 20 57 6880
---
$785,000
Active
11715 1ST ST E TREASURE ISLAND, Florida 33706-5101
Beds:3Baths:3/0
Year Built:2018Lot Size Acres:0.22Heated Sq Ft:2,533Garage/Carport:2 Car GaragePool:Community
Kan være solgt rung + 45 20 57 68 80
---
$786,500
Active
113 95TH AVE TREASURE ISLAND, Florida 33706
Beds:4Baths:3/0
Year Built:2017Lot Size Acres:0.05Heated Sq Ft:2,400Garage/Carport:2 Car GaragePool:None
---
$795,000New Listing
Active
10390 PARADISE BLVD TREASURE ISLAND, Florida 33706-3141
Beds:2Baths:2/1
Year Built:1951Lot Size Acres:0.30Heated Sq Ft:1,751Garage/Carport:1 Car GaragePool:None
Kan være solgt ring +45 20 57 68 80
---
$799,900Price Decrease
Active
12475 4TH ST E TREASURE ISLAND, Florida 33706-4479
Beds:3Baths:2/0
Year Built:1963Lot Size Acres:0.19Heated Sq Ft:1,964Garage/Carport:2 Car GaragePool:Private
---
$849,000
Active
11005 5TH ST E TREASURE ISLAND, Florida 33706-3019
Beds:3Baths:3/0
Year Built:1963Lot Size Acres:0.18Heated Sq Ft:1,992Garage/Carport:2 Car GaragePool:None
---
$849,900
Active
11220 7TH ST E TREASURE ISLAND, Florida 33706-3032
Beds:4Baths:3/0
Year Built:1970Lot Size Acres:0.19Heated Sq Ft:2,869Garage/Carport:2 Car GaragePool:Private
---
$865,000New Listing
Active
10066 S YACHT CLUB DR TREASURE ISLAND, Florida 33706-3102
Beds:3Baths:3/0
Year Built:1967Lot Size Acres:0.24Heated Sq Ft:2,030Garage/Carport:2 Car GaragePool:Private
Kan være solgt ring +45 20 57 68 80
---
$875,000New Listing
Active
660 CAPRI BLVD TREASURE ISLAND, Florida 33706-1038
Beds:4Baths:4/0
Year Built:1965Lot Size Acres:0.23Heated Sq Ft:2,887Garage/Carport:2 Car CarportPool:Private
---
$875,000
Active
12205 5TH ST E TREASURE ISLAND, Florida 33706
Beds:2Baths:2/0
Year Built:1962Lot Size Acres:0.19Heated Sq Ft:2,065Garage/Carport:2 Car GaragePool:None
---
$877,000
Active
11325 8TH ST E TREASURE ISLAND, Florida 33706-1107
Beds:5Baths:3/1
Year Built:1958Lot Size Acres:0.19Heated Sq Ft:3,120Garage/Carport:2 Car GaragePool:Private
---
$895,000
Active
250 115TH AVE TREASURE ISLAND, Florida 33706-4661
Beds:5Baths:4/0
Year Built:1960Lot Size Acres:0.10Heated Sq Ft:3,384Garage/Carport:1 Car GaragePool:None
---
$994,000
Active
12375 5TH ST E TREASURE ISLAND, Florida 33706-2906
Beds:3Baths:2/0
Year Built:1958Lot Size Acres:0.24Heated Sq Ft:2,690Garage/Carport:2 Car GaragePool:Private
Kan være solgt ring +45 20 57 68 80
---
$998,000
Active
620 115TH AVE TREASURE ISLAND, Florida 33706-3050
Beds:3Baths:3/0
Year Built:1962Lot Size Acres:0.18Heated Sq Ft:2,707Garage/Carport:2 Car GaragePool:None
---
$1,075,000
Active
10113 PARADISE BLVD TREASURE ISLAND, Florida 33706-3116
Beds:4Baths:3/0
Year Built:1980Lot Size Acres:0.23Heated Sq Ft:3,312Garage/Carport:2 Car GaragePool:Private
---
$1,145,000
Active
11120 8TH ST E TREASURE ISLAND, Florida 33706-1104
Beds:4Baths:3/0
Year Built:1963Lot Size Acres:0.19Heated Sq Ft:2,660Garage/Carport:2 Car GaragePool:Private
---
$1,149,000Price Decrease
Active
220 108TH AVE Unit#304 TREASURE ISLAND, Florida 33706-4720
Beds:4Baths:3/1
Year Built:2005Lot Size Acres:Heated Sq Ft:3,150Garage/Carport:2 Car GaragePool:Community
Kan være solgt ring + 45 20 57 68 80
---
$1,325,000Price Decrease
Active
10102 TARPON DR TREASURE ISLAND, Florida 33706-3123
Beds:5Baths:3/1
Year Built:1956Lot Size Acres:0.22Heated Sq Ft:3,749Garage/Carport:2 Car GaragePool:Private
---
$1,359,000
Active
9872 GULF BLVD Unit#3 TREASURE ISLAND, Florida 33706-3214
Beds:3Baths:3/2
Year Built:2004Lot Size Acres:0.57Heated Sq Ft:3,054Garage/Carport:4 Car GaragePool:None
Kan være solgt ring + 45 20 57 68 80
---
$1,375,000
Active
142 89TH AVE TREASURE ISLAND, Florida 33706-3312
Beds:4Baths:3/1
Year Built:2006Lot Size Acres:0.21Heated Sq Ft:3,880Garage/Carport:3 Car GaragePool:None
---
$1,499,000
Active
8701 W GULF BLVD TREASURE ISLAND, Florida 33706-3366
Beds:3Baths:3/0
Year Built:2018Lot Size Acres:0.09Heated Sq Ft:3,000Garage/Carport:4 Car Garage, RV GaragePool:Private
---
$1,950,000Price Decrease
Active
17 ISLAND DR TREASURE ISLAND, Florida 33706-1202
Beds:4Baths:3/0
Year Built:1969Lot Size Acres:0.25Heated Sq Ft:4,190Garage/Carport:2 Car GaragePool:Private
---
$2,379,000
Active
28 PARADISE LN TREASURE ISLAND, Florida 33706-1129
Beds:4Baths:3/1
Year Built:1996Lot Size Acres:0.23Heated Sq Ft:4,850Garage/Carport:4 Car GaragePool:Private
---
$2,500,000
Active
10324 GULF BLVD Unit#300 TREASURE ISLAND, Florida 33706-4886
Beds:4Baths:3/1
Year Built:2006Lot Size Acres:Heated Sq Ft:4,715Garage/Carport:3 Car GaragePool:Private
Kan være solgt Ring + 45 20 47 68 80
---